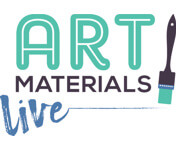 Part of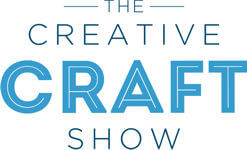 Art Materials Live
INCLUDES FREE ENTRY TO SIMPLY CHRISTMAS,
THE CREATIVE CRAFT SHOW AND CAKE INTERNATIONAL*
31 October-3 November 2019 · NEC · Birmingham
Opening times 9.30am - 5.00pm (4pm Sunday)
Devote some time to your hobby and enjoy a day out at Art Materials Live. Hone your skills or learn a new one in the workshops, get advice and inspiration from the professionals and splash some cash with a host of great suppliers!
MOBILITY: The NEC operate a telephone booking line for mobility equipment Monday to Friday 0900hrs-1600hrs on 0121 780 4141 (Option 2 and then Option 7) alternatively you can email InfoEmailAccount(Replace this parenthesis with the @ sign)necgroup.co.uk
At the show
Make & Takes
Get hands-on at a Make & Take.
There's a wide range to try, with lots of help and encouragement from the experts.
Book at the show – visit the stand number of the workshop.
BEAD SELECTION · J P Crafts – Pixel Hobby UK · JUMPING CLAY – B26 · DIAMOND DOTZ UK · CALLIGRAPHY ARTS – H04 · CRAVEN & WHITE – G38 · CRAFT BUDDY A05 · THE MAKERSS – C16 · TRACEY QUINN – L40 · LAVINIA STAMPS – A19 · Crystal Card Kit – A06 · SAMANTHA K · Sarah Ditchfield – Search Press · Sewing Surgery – Jenniffer Taylor, Search Press · MUM'S MAKERY · LAVINIA STAMPS · CLARITY STAMP · ART & CRAFT GLITTER GREETINGS · WOOL SHOP LEEDS · JUKO DESIGNS – B07 · FESTIVAL OF JAPAN – B32 · www.decopatchme.co.uk · MARBLE ART ORIGINALS · Blockcraft · Little Gem Felts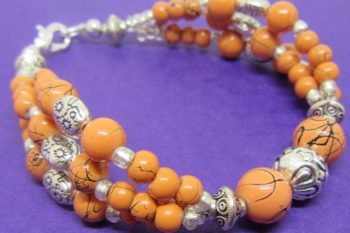 The Bead Selection are running on a first come basis classes all through the day , we are making a Rhapsody Bracelet in a selection of colour choices. Please come to the stand first thing and book your place, the classes run for 30 mins and cost £5 and you leave with learning a new technique and a beautiful piece of jewellery . Meg is once again teaching the class and we look forward to seeing you, Jacs and Andy.
J P Crafts – Pixel Hobby UK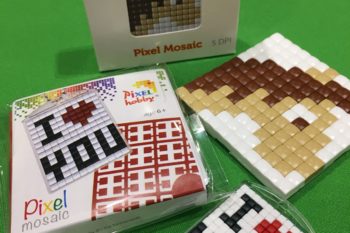 Create a pixel mosaic key ring or fridge magnet! Suitable for any experience level and for ages 5+. Come and try this exciting technique! £2.50 per person.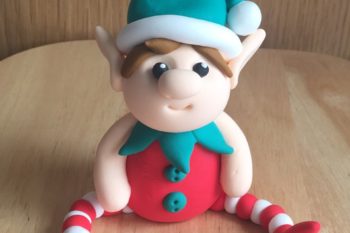 Come and learn how to make a Cheeky Elf with our amazing Air Dry Jumping Clay. Be amazed at how easy it is to use. Suitable for cake topper models, ornaments, card toppers or tree decorations.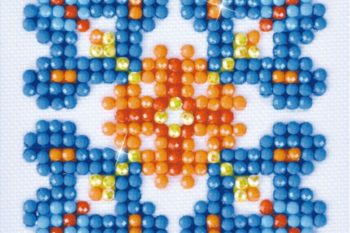 Diamond Dotz UK will be running make and take sessions throughout the show giving people the opportunity to complete a starter kit. The make and take will cost £5.00 or under.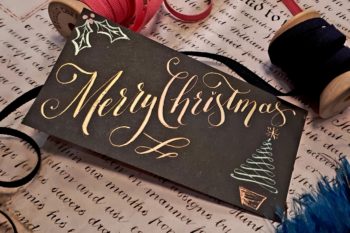 Calligraphy Arts will give you a quick insight into the art of Modern Calligraphy. Jane will be running hourly classes for metallic Finetec Modern Calligraphy and flourish techniques.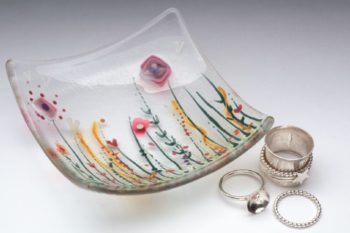 Fancy trying the art of glass fusing? Book a 20-minute workshop where you can create artwork, coaster or trinket bowl on our stand. It will then be taken for firing and posted on to you.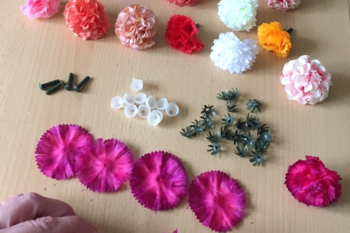 Join us on the Craft Buddy stand to make a beautiful Forever Flower. Available in many shapes and colours, our Forever Flowerz are sure to entertain and amaze you! All materials included. Cost £2 per person.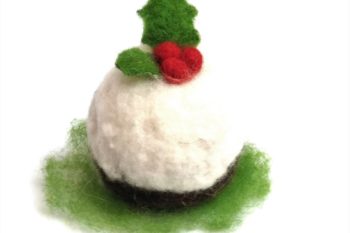 Try the magic of needle felting, make a small needle felted Christmas pudding decoration. £3 includes felting needle and your decoration to take away.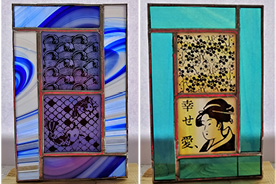 Join Tracey Quinn on stand L40 for short introductory taster classes for stained glass using the Tiffany technique. With precut glass pieces you will create a beautiful decorative piece to take home. Book your place on Tracey's stand; charges apply.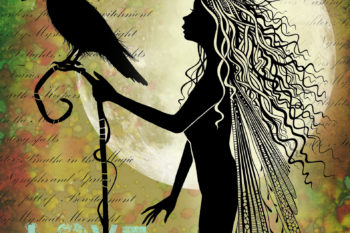 Join Lavinia Stamps to learn skills, techniques and tips on stamping, using several products to create magical backgrounds, stamping with fairies and flowers, something Lavinia Stamps is recognised for.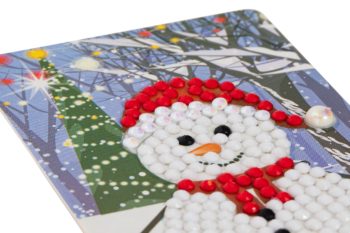 A small credit card sized Crystal Art project, which gives users a chance to try the phenomenally popular craft, Crystal Art, for themselves. This project will take around 15 minutes to complete. It involves applying small crystals
onto a sticky template, using a pick-up pen. All materials are included.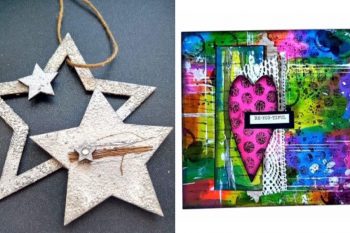 On Thursday and Saturday we will be running Make and Takes half hourly. Join Denyse to create a Star Decoration, creating texture with a household item.
On Friday and Sunday the amazing Emma Blake will guide you in a 45 minute mini workshop showing you how to lay out and create this fabulous Mixed Media Project.
Bookings for both can be made on stand H35.
Sarah Ditchfield – Search Press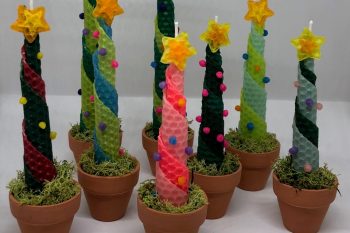 Don't miss a range of make and takes on the Search Press stand including this beautiful rolled beeswax Christmas Tree candle with Sarah Ditchfield (Saturday & Sunday). Just head over to stand G22 to book!
Sewing Surgery – Jenniffer Taylor, Search Press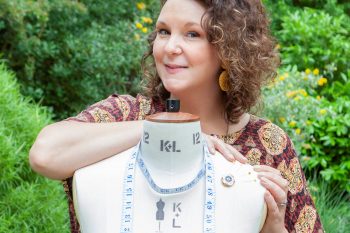 Join Search Press author and TV sewing demonstrator Jenniffer Taylor (Tailor Taylor), will be sharing her hints and tips on dressmaking and how choosing the right interfacing can make a big difference! Jenniffer will also be on hand to answer any of your sewing project queries.
10.30am and 1.30pm Sewing Surgery- Jenniffer will be demonstrating her top tips on making garments with stretch and woven fabrics. Learn tricks and tips and how making little changes on the inside of a garment can make all the difference. Take your dressmaking to the next level and make your own mini t-shirt and samples to take home. At the end of the session, Jenniffer will be on hand to answer any other of your sewing queries. Demonstration will be approx. 30 / 45 mins – Free and no booking required.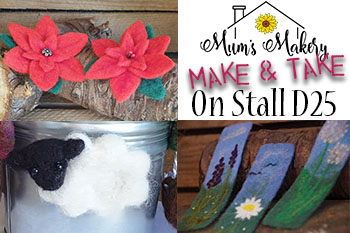 Free Make & Take Workshops everyday at Mum's Makery. Sign up on the day at Stall D25. We will be making Bookmarks / Card Toppers, Mini Flower Brooch and a fun Sheep Fridge Magnet using needle felting techniques. Sign up early as places are very limited. www.mumsmakery.co.uk / www.youtube.com/mumsmakery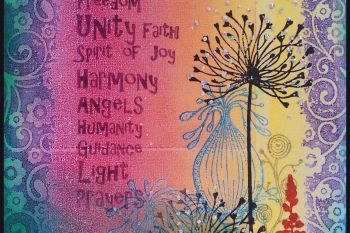 Join Lavinia Stamps to learn skills, techniques and tips on stamping, using several products to create magical backgrounds, stamping with fairies and flowers, something Lavinia Stamps is recognised for.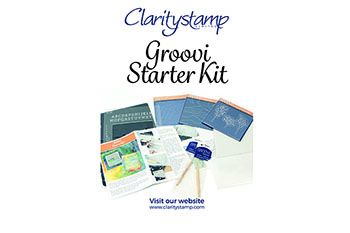 Claritystamp Ltd will once again be offering make and take sessions using the Groovi Parchment System throughout the show on their stand.
You will have the opportunity to create a memorable piece of parchment art using the latest Groovi plates under the supervision of our expert TV crafters.
ART & CRAFT GLITTER GREETINGS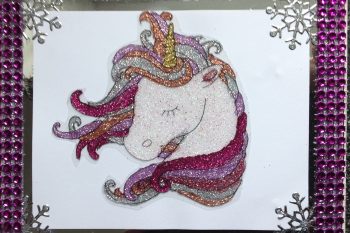 Children and adults welcome. Glittering onto acetate with a choice of designs, which look great on Glass and lots of other materials. £2.00 per person, no need to book, classes running throughout the day.
Adults and children welcome.
Cost £2.00. No need to book.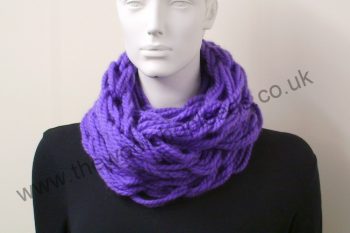 Learn how to knit an infinity scarf in less than an hour using your arms! No knitting needles involved – great for knitters and non-knitters; adults and teenagers alike. Workshops throughout each day, £10.00 per person and you will walk away wearing your incredibly attractive (and clever) infinity scarf. Places are available on a first-come, first-served basis so please come along and book your place in the morning.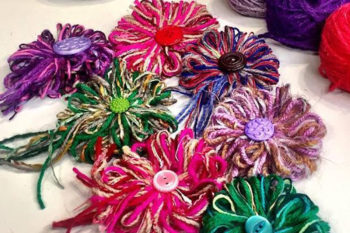 Learn how to weave a flower brooch or decoration using a stick-weaving technique. All yarn, buttons and brooch backs provided to complete your project. Suitable for ages 8 and above, please book your place on our stand.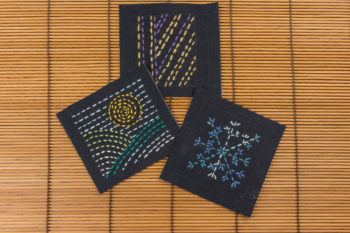 In 30 minutes you can learn the basics of Sashiko, a simple, but effective traditional sewing craft from Japan. Suitable for all ages and skills levels, cost £4.00 per person. Also try the art of Traditional Japanese bookbinding; learn how to produce stunning washi paper A5 covered book in this brand new class. No skills required, cost £7.00 per person. 10% discount given to participants on purchases over £30.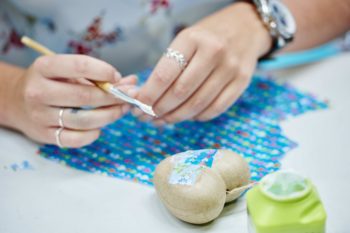 Decopatch is a quick and easy way of stylishly decorating objects using special papers and glue varnish medium. Working on almost any surface straight from the bottle you can produce really satisfying results in no time!
Adults and children welcome
Book on stand on arrival.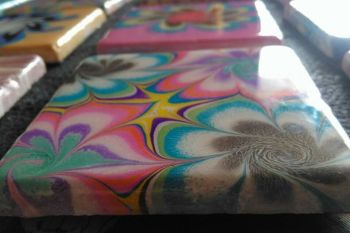 Enjoy mesmerising Mini Marbling Workshops with Craig Joubert. Marbling onto tiles & fabric. Let Craig show you how to create amazing patterns and finishes in minutes!
Simply book a slot at the stand.
Limited spaces available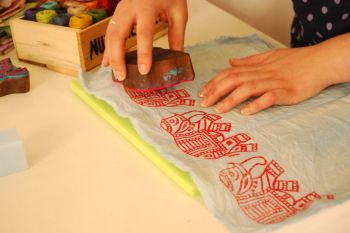 Let The Arty Crafty Place guide you through the art of Block Printing using beautiful hand carved Indian printing blocks. Choose a design and print your own tea towel.
Suitable for adults and children. Visit the stand for details.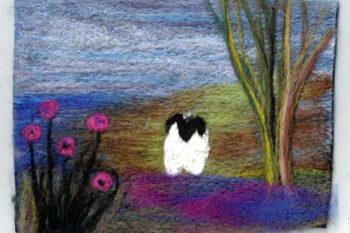 Silvia will be holding 3 'Make and Take' sessions per day at our stand.
Each session will include one hour's tuition on needle-felting, resulting in an A5 sized landscape to take away.
The cost will be £8 to cover tuition and materials.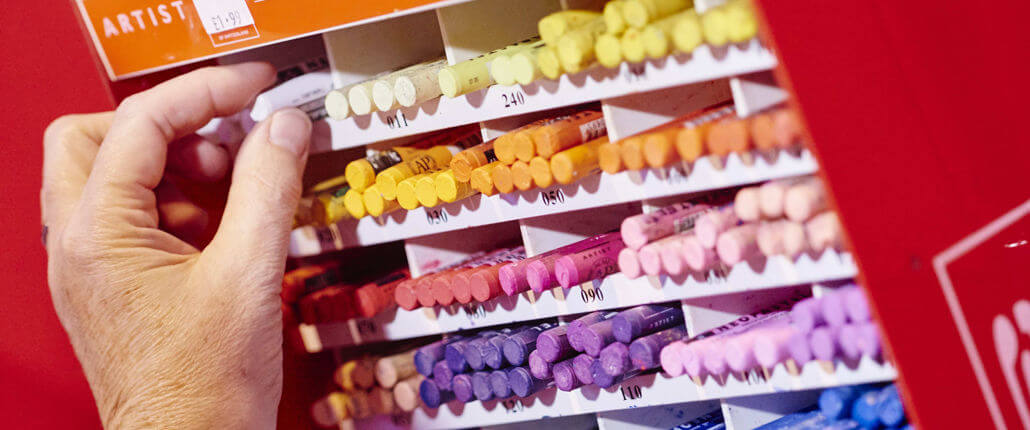 Browse aisle and aisles of stalls and stands packed with brand-new crafting innovations, classic tools and products and accessories in every colour of the rainbow!
With experts manning each stall – you'll be sure to find exactly what you need!
Getting There
NEC, Birmingham · B40 1NT
NEC, Birmingham · B40 1NT
The NEC is at the heart of the UK's transport network. CLICK HERE for road, rail, bus and flight directions.
By Rail:
Birmingham International Station is within the NEC complex and gives easy access to the show.
Discount travel with Virgin trains. Exhibitors and visitors can take advantage of discounted train travel to the show. The offer is applicable on advance virgin train west coast main line routes/tickets only. Advance tickets go on sale 12 weeks from the dates of travel.
What is the offer?
Simply book your journey to the NEC using the link below and the 25% discount will be automatically applied to your booking:
http://www.buytickets.virgintrains.co.uk/DataPassedIn.aspx?prm=NEC25&WT.mc_id=VTCAMPAIGN00000106
What do I need to do to validate my ticket?
You need to make sure that you have confirmation that you are attending an event at the NEC with you when
you are travelling (as the conductor may ask you for this on the train). So, please make sure you have your
exhibitor/visitor passes or email confirmation with you.
By Car:
The NEC is situated 8 miles east of Birmingham city centre, just off junction 6 of the M42 and is clearly signposted.
Daily car park charges apply. Pre-pay for parking and save on daily rates HERE.
Resorts World Birmingham offers the perfect opportunity for exhibitors or visitors to relax after a day at the show with restaurants, shops and spa available within the complex.